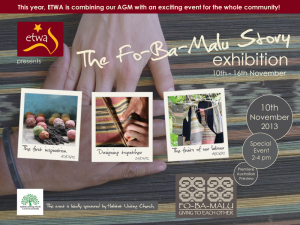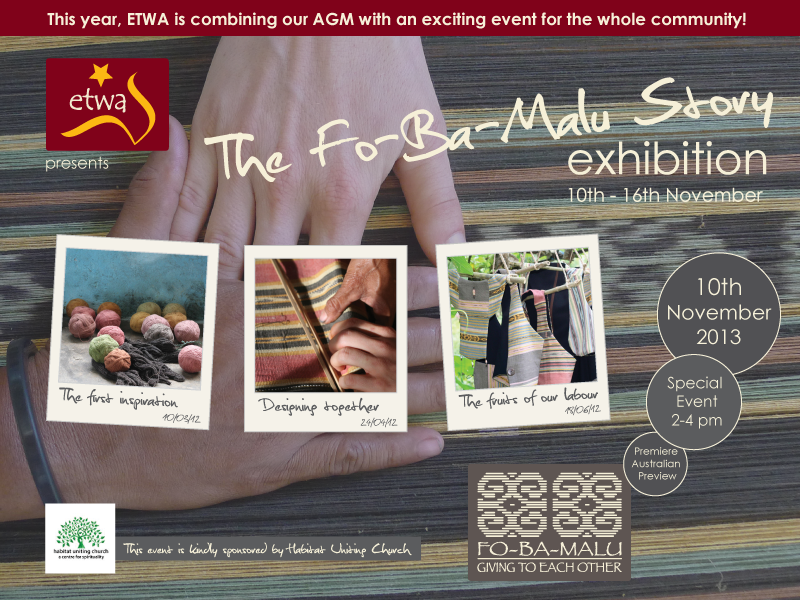 This unique exhibition tells a unique story, tracing the relationship between ETWA and Timorese women through objects and images over the last eight years. Commencing in 2005 and culminating with the current Fo-Ba-Malu project, ETWA has worked with LO'UD women to establish a sustainable enterprise model that ensures member-weavers are paid fairly for their work while also contributing to the preservation important cultural practices.
This event celebrates our unique partnership and showcases the Fo-Ba-Malu range of plant-dyed textiles, a design collaboration project between ETWA volunteers and LO'UD weavers. Findings of key research undertaken by ETWA between 2011 and 2012 into the economics of hand-weaving will also be presented.
WHEN:             Sunday 10th November, 2013, from 2pm til 4pm
WHERE:           Augustine Centre, 2 Minona Street Hawthorn
The Fo-Ba-Malu Story
Exhibition Outline
Multi-Media Timeline of the projects and building blocks of the Fo-Ba-Malu Collaboration. The story focus on key activities within Timor-Leste from 2010 till present 2013 achievements. The Timeline endeavors to strengthen this journey for the audience by also showcasing the key activities focus for growth that will contribute to the growth of Fo-Ba-Malu.
The following content is currently being translated from the exhibition content. Watch out for updates.
2010
2011
2012
2013
2014